Babies wrote:

Hey everyone, I made my first YouTube video! It's all about something I call "Cuddle Baby Magic!" Warning, it's 34 minutes long, so if you do watch it, thank you from the bottom of my heart in advance!!!

Also, if you have some time I would so appreciate critiques of this video! I definitely have things I want to do better, but I want to know what you think. Pretty please!

For example, if it's too long, please let me know. (It went longer than I planned.) I know I need to improve picture quality. How do you feel about how I held the babies? They are dolls that I try to hold like real babies, but I think sometimes I held them more like dolls than babies. What are your thoughts? On all of the above and anything else you think of. Thank you!!!  


https://www.youtube.com/watch?v=TF4CiYNX9d0





Hi Lisa!!!
So much fun!! Just finished watching your very first video on youtube!! wow.. nice and clear picture and you are so sweet! I have never done one myself!!
You had me laughing when you were doing the snowsuit baby.. hehehe.. talking about how hot you were and someone with a broken ac.. hehehe!!
Your love of reborning shines through. Your painting is wonderful!! I think its a fun video for people that have never had a cuddle baby before!! (like ME!! ) Loved
seeing all the different type bodies and how they looked so real once they were dressed, awesome!!
You are always striving to learn new things.. well done Lisa!! Being your very first video, i think it was awesome. You will get smoother with each one,
i could tell you were a little nervous which is to be expected.. heck.. i could never talk in front of people ever since grade school, i would get all red in the face and feel like i was choking on somthing.. LOLLLL ! hehehe
Off to sleep!! Thanks for growing and sharing your journey with us here at the forum Lisa!!
Hugs,
Jenny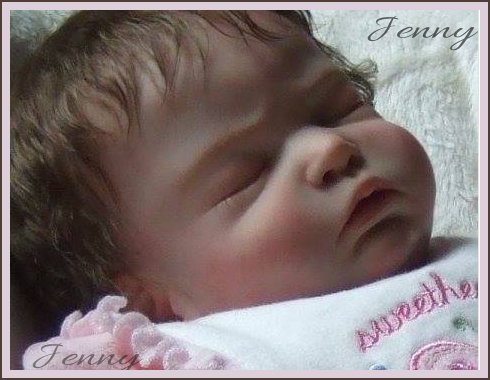 "It's nice to be important, but it's more important to be nice" (words of wisdom from my Dad) :P