First I want to start off by wishing everyone a Happy Mother's Day!
I received my little bundle of joy today just in time for Mother's Day! Thank you so much Heather Bronisz of 3 CrazyKidz Nursery! I love the name you gave her, so she will remain Isabella Grace. Isabella is just so cute, and so cuddly. I haven't been able to put her down all day. She just curls herself against me when I hold her and is just so lovely to hold. She's sitting in my lap as I write this now! :)
So here are the photos of the box opening!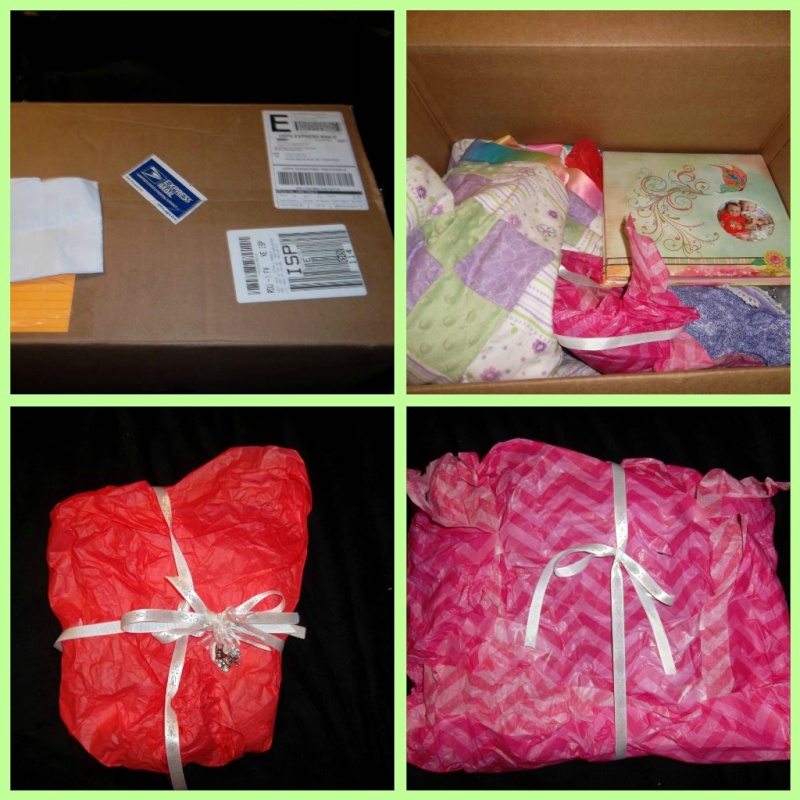 I received a beautiful photo book, a cute owl card, small silver photo frame and a lovely lilac scented candle! On the cover of the photo album is a picture of Isabella Grace and Samantha (which is the swap baby I made for Heather!). I just love seeing them together!
And there was this adorable owl themed swaddle blanket. Heather really took note that I love owls and the color purple! The beautiful purple and green patchwork reversible blanket is so soft I just want to curl up with it. And it was made by Heather. Heather also sewed the purple dress outfit, which just looks amazing on Isabella! And it came with cute purple shoes, a head band, a flower hair clip, a purple hair bow and a sparkly purple "princess" pacifier. And I received a white onesie, a pretty baby bracelet, and a set of a baby hair comb and brush.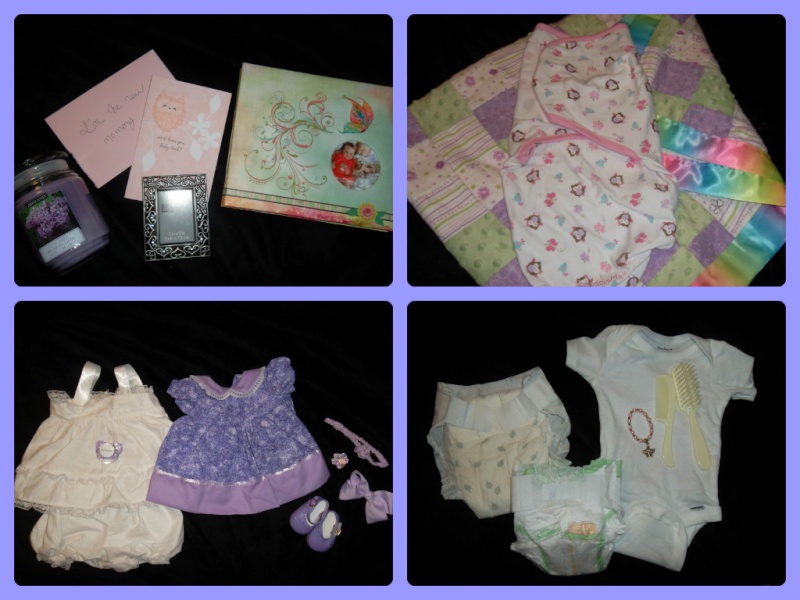 Next you can see the cute bodysuit front and back with a sparkly pink "princess" pacifier. And another hand made outfit! The adorable dress has an owl print on it and many ruffle layers! Isabella looks like a cute cupcake in that dress! It came with a pink flower hair bow, lace trim socks and a white shoes. And finally a photo of Isabella right when I unwrapped her and first set eyes on her! She was made from the "Cozy" sculpt by Linda K. Smith. How cute is she?!
And here are the pages of the photo album. Heather showed me how she brought Isabella to life. And she even had a photo of Isabella's first bath! :) And of course I love the photo of Isabella Grace with Samantha!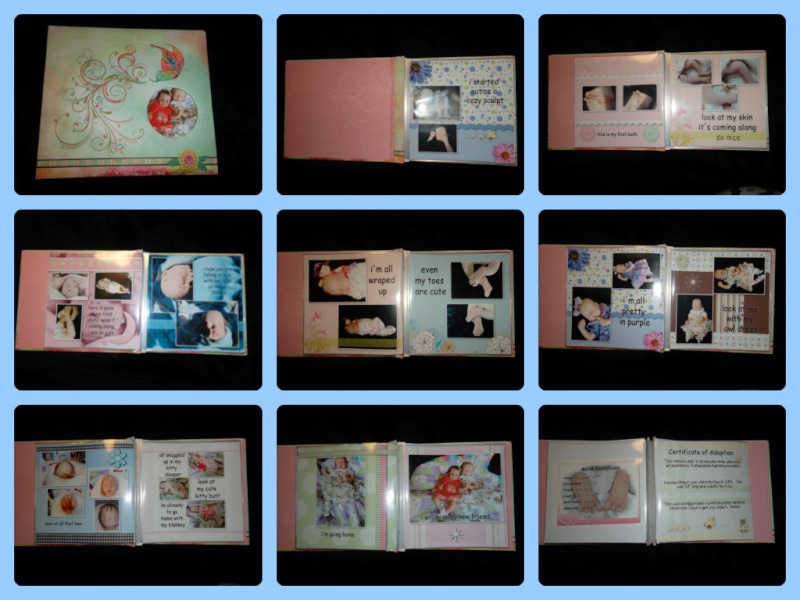 And because I couldn't resist, I had to do a photo shoot! I love her hair color, but for some reason the camera didn't catch the right coloring as the hair looks more red in person.
I just love her in that great purple dress! And in the last photo on the right I put her in an outfit that I received from Linda during the April Round Robin. She looks so cute sucking her thumb!
I just wanted to thank Heather again! Thank you for giving me my first baby girl reborn! All of my keepers were boys, so it feels so nice to have a girl join the family. She was definitely worth the wait! :D